People looking for ways to make their homes more sustainable often also look at a hybrid heat pump. That's pretty smart because installing a hybrid heat pump can be a good intermediate step on the way to a completely gas-free home. What is a hybrid heat pump? What is the effect? And in which situations can you use a hybrid heat pump? In this article, you can read all about it, including the necessary background information and some useful tips!
What is a hybrid heat pump?
A hybrid heat pump is a modulating monoblock or split air/water heat pump which you can combine with an existing central heating boiler in one installation. With a hybrid heat pump, you can easily and sustainably provide your home with the desired climate comfort, without having to immediately dispose of your well-functioning central heating combi boiler. In this combination, the hybrid heat pump ensures heating and possibly active cooling of your home for most of the year. The central heating combi boiler only switches on at peak load – i.e. when a lot of heat is required. In addition, your central heating combi boiler supplies hot water for your kitchen and bathroom all year round. If you opt for a hybrid installation, your gas consumption for heating will decrease considerably. A hybrid heat pump is also very easy to install without the need for drastic structural measures!
The term 'hybrid heat pump' usually refers to a complete installation for heating, possibly cooling, and hot water in which an electric heat pump works together with a gas-fired central heating boiler. The word 'hybrid' refers to the fact that two different energy sources are used: natural gas and electricity.
Strictly speaking, the designation 'hybrid heat pump' is not entirely correct. The heat pump works entirely on electricity and a central heating combi boiler runs entirely on gas.
How does a hybrid heat pump work?
A hybrid heat pump is a monoblock or split air/water heat pump that can be combined with your central heating boiler. A monoblock air/water heat pump from NIBE consists of an outdoor unit in which all so-called refrigerant-side components – the compressor, the condenser, the expansion valve, and the evaporator – are placed. In a split version, these components are partly placed in an outdoor unit and partly in an indoor unit. The operation of the hybrid heat pump is as follows: In the air/water heat pump, a special fluid – called refrigerant – circulates in a closed circuit through the refrigerant side components. The heat from the outside air is converted into usable energy and transferred via the condenser to the central heating system for heating your home. The boiler switches on when there is a peak load. It also heats tap water for your kitchen and bathroom.
Why should you buy a hybrid heat pump?
Good question. After all, you also need a properly functioning central heating combi boiler for a hybrid heat pump. And if that central heating combi boiler still provides enough comfort, why would you still have a heat pump installed next to it? For the answer, let's look at another measure to make your home more sustainable: the installation of solar panels.
In principle, you do not need solar panels to provide your house with electricity, but more and more people are having solar panels installed. Why? Because they are quite prepared to personally invest in a liveable world and a better climate. But how do you invest in a better climate? Simple: the burning of natural gas produces the greenhouse gas CO2. By taking measures to reduce CO2 emissions you directly contribute to a better climate and a liveable world.
This can be done, for example, by buying green energy – such as wind energy, solar energy, or energy from hydropower – from your energy supplier. And so also by generating your own electricity with solar panels on the roof of your house. Based on the same principle, you can limit CO2 emissions by opting for a hybrid heat pump, so that you use considerably less natural gas.
Do you earn back such a sustainable investment?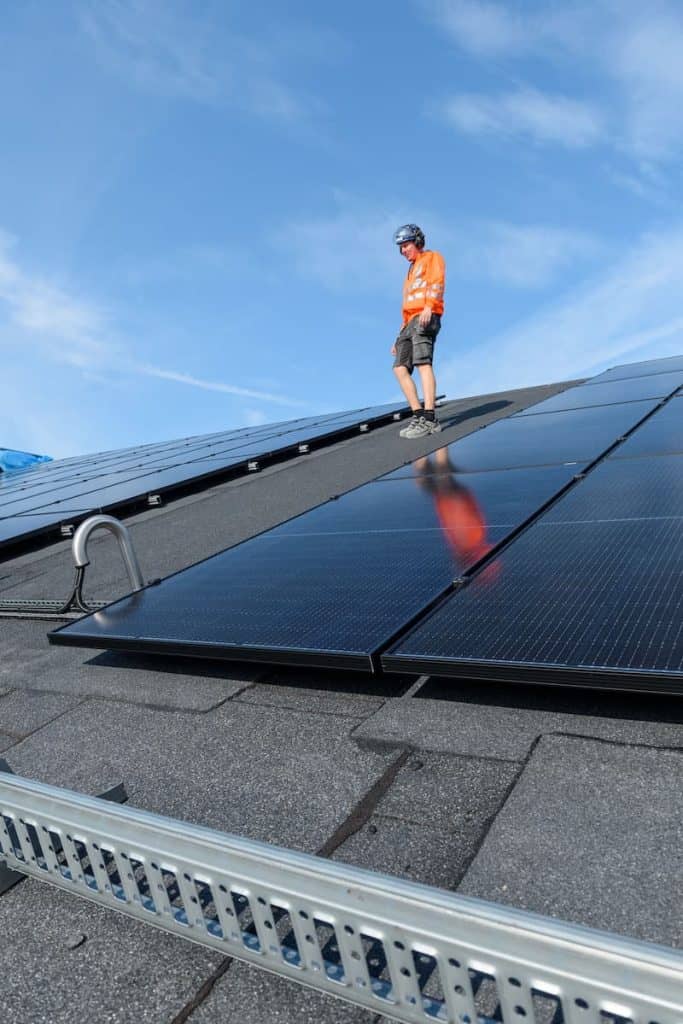 Most people find it important that they can recoup their financial investment in sustainable measures by lowering their energy costs. With solar panels, you can calculate relatively easily how long it will take to earn back your investment based on the purchase costs, the annual maintenance costs, and the expected yield. With a hybrid heat pump, this is often a bit more complicated because the payback time depends on many more factors, such as:
Your home's heating
needs a house with energy label A, for example, loses less heat than a house with energy label D. And a large house requires more heat than a small house with the same energy label. And of course, the behavior of the residents also influences the heating requirement of a house. For example, is the thermostat set to 19 °C or 21 °C? Is a door or window often open with the heating on? And are only the living room, kitchen and bathroom heated or also all bedrooms? All of these factors affect the amount of heat your home requires.
Subsidy and investment
When purchasing a hybrid heat pump, you are eligible for the subsidy program in your country. Depending on the type of air/water heat pump and the capacity, the subsidy can be up to few thousand $ or €.
Solar panels
Because a hybrid heat pump also uses electrical auxiliary energy (say: electricity), even the presence of solar panels on your roof can influence the payback time. Just think of the future abolition of the net metering scheme (making it more attractive to use self-generated electricity instead of supplying it back to the grid) and possible changes in the prices of electricity and gas. And last but not least: with a hybrid heat pump, the energy label of your home improves, which often leads to an increase in value.
All these factors together provide many more possible situations, which means that calculating the payback period of a hybrid heat pump really is a piece of customization.

Is your house suitable for a hybrid heat pump?
Over the years, stricter insulation requirements and the use of different ventilation and delivery systems have created a great diversity of homes. If you are considering making your home more sustainable, it is therefore important to first carefully analyze the initial situation and look to the future from there. In any case, you will have to answer the following questions:
Is your house already well insulated and/or can you easily improve it or have it improved?
Do you want to become more sustainable all at once or would you rather tackle this in a number of smaller steps?
Do you ultimately want to get rid of the gas completely and therefore electrically heat, cool, and cook?
HINT | Do you have an (almost) new house? Then it is probably not possible to opt for a hybrid heat pump. If the building permit for your house has been granted recently, a gas-fired central heating boiler may no longer be installed.
Image
Product
Features
Price

MRCOOL DIY 18k BTU 20 SEER Ductless Heat Pump Split System 3rd Generation – Energy Star 230v & Diversitech E Lite Plastic Equipment Pad for HVAC Systems, 18″ x 38″ x 3″, Gray

Product 1: Country of origin : United States
Product 1: Easy DIY installation: pre-charged R-410A 25ft quick connect line doesn't require special tools, equipment, or training
Product 1: New SmartHVAC app: wifi control – compatible with Alexa and Google assistant – you can control your DIY anywhere with your Apple or android smart device and an Internet connection
Product 1: Designed to efficiently heat and cool a single 750 Sq Ft room
Product 2: PLASTIC EQUIPMENT PAD: Perfect mounting base for HVAC outdoor units and other outdoor equipment
Product 2: LIGHTWEIGHT AND DURABLE CONSTRUCTION: Made of injection molded polypropylene that is light and easy to maneuver but rugged for long-lasting use even in extreme weather
Product 2: DRILLABLE DESIGN: Easy to secure equipment to the pad and subtle top texture helps prevent equipment from shifting
Product 2: OPTMIZED RIB PATTERN: Generous ribbing underneath the pad spreads the load evenly and ensures pad strength and stability on soil and gravel terrain

Check Price

Senville LETO Series Mini Split Air Conditioner Heat Pump, 12000 BTU 110/120V, Works with Alexa, White

ALEXA ENABLED: Use voice or app control to control your air conditioner from anywhere. Use routines to adjust temperature settings while you are away and enjoy energy savings of up to 40%.
4-IN-1 MINI SPLIT SYSTEM: With air conditioning, built-in heat pump (up to 5F/-15C), dehumidifier, fan and turbo function. DC Inverter, UL Listed, AHRI Certified, Works with Alexa
DESIGNED FOR HOME & BUSINESS: Powerful performance and dependable durability with high quality design for an attractive appearance. Great for bedrooms, additions, living rooms, and even commercial applications like stores, restaurants and warehouses.
WHAT'S INCLUDED: Includes indoor air handler, outdoor condensers, remote control and installation kit with 16ft. line set and communication wire. Pre-charged with R410A refrigerant for up to 25 ft. Important note: requires professional installation.
5 YEAR WARRANTY: Backed by an industry leading manufacturer's warranty, with 5 years on parts replacement and 5 years on compressor. Trusted quality and design by Senville, with free technical & installation support included.

Check Price

DAIKIN 12,000 BTU 19 SEER Wall-Mounted Ductless Mini-Split A/C Heat Pump System with Maxwell 15-ft Installation Kit (12,000 BTU_19 SEER)

NEW Daikin 19 SEER Series offers an exceptional 12 Year Manufacturer Warranty, the Best in the Industry. HeatandCool is one of the largest Daikin online authorized distributors. We provide FREE Technical Support and process Daikin Warranty by our in-house experts for all your needs.
Efficiency Ratings: 19 SEER,9 HSPF,12.2 EER. This Daikin 12,000 BTU comes with Titanium Apatite Photocatalytic Air-Purifying Filter, Self-Diagnostic with Digital Display, Econo mode, Dry Function, auto-restart. The pre-charged outdoor unit accommodates up to 33 ft of refrigerant line.
Coverage Area of 550 sq. ft. Applications: Primary living areas (master bedrooms), hot or cold rooms, renovations & remodeling, basements, attics & garages.
Powerful operation mode available for cooling and heating. The unit supports 98' Horizontal Run or 66' Vertical Rise for extended pipe lengths. Special Anti-Corrosion Treatment on Indoor & Outdoor coils.
Includes Indoor Unit, Outdoor Condensing Unit, Remote Control, Maxwell 15 Ft. Installation Kit, and Wall Mounting Bracket.

Check Price
We may be paid compensation when you click on links to those products and/or services. As an Amazon Associate, we earn from qualifying purchases.