As our society became more and more obsessed with personal care, we also became obsessed with finding ways to make personal care fun; after all, washing your hair, taking a bath, brushing your teeth, and all those other tasks can be pretty boring on their own. When LUSH co-founder Mo Constantine found inspiration from the fizzing properties of Alka Seltzer in 1989, she created a never-ending trend that would take social media and our society by storm, making bath time fun again for people of all ages. Whether you're looking for bath bombs for kids or adults, these fun little bathtime additions are sure to make personal hygiene a whole new experience.
What Is a Bath Bomb?
The term "bath bomb" essentially explains what this bath product does; it's basically a little bomb that goes in your bath except that it's fun, colorful, and not actually dangerous. It's hard to go anywhere without seeing something about these things today, whether that be buying one or finding a recipe to make your own. Everybody seems to be mesmerized by bath bombs, unable to wrap their minds around how exactly they work.
So how do bath bombs get their fizz? When the bath bomb hits the water, baking soda and citric acid react together to fizz and swirl throughout the water. There's a lot more to making a bath bomb than just combining baking soda and citric acid, however, but LUSH has perfected that in-depth process over time to create the perfect mix of ingredients and techniques to form bath bombs that are suitable for all types of skin, using only natural vegetarian ingredients. 
Do not think that soda and citric acid are harmful to the skin. Quite the opposite. Soda, for example, restores acid-base balance and normalizes the metabolism in cells, and also softens water, which is an important plus in urban conditions. Citric acid, often referred to as an "acidity regulator" in formulations, cleanses the body of harmful, toxic substances.
Sea salt, cosmetic and essential oils are added to the base. The result of taking baths with bombs depends on these components. All kinds of oils soften and nourish the skin, activate metabolic processes and affect the mood with smells: soothe, relax or invigorate. And, for example, sea salt is useful with magnum and minerals. They normalize cell metabolism, making the skin look smooth and supple.
Are Bath Bombs Safe for Kids?
It's clear that bath bombs are a great way to add a little fun to bath time, which makes it seem as though they'd be great for the younger ones, but are bath bombs safe for kids? There has been a lot of arguments and debate over whether or not bath bombs are safe for kids (or any person, for that matter). When it comes down to it, the answer is actually more complicated than you might expect.
The composition of the product always includes flavorings. They enhance the smell of natural oils – yes, oils are useful, but their aroma is not revealed without the help of fragrances. The aromatic fragrance is most often a product of oil refining and carries a real danger to the skin, increasing the likelihood of allergies and irritation.
The next danger lies in dyes. We all know about the dangers of dyes in food – with bath bombs the same story. Without dyes, there really wouldn't be such a beautiful colored foam that captured all social networks. But they fall directly under the skin through pores expanded by steam, damaging its structure and balance.
Glitters are a separate topic in the discussion of the dangers of bath bombs. Some cosmetics brands pay special attention to this and make them without adding plastic, but, unfortunately, this does not apply to all manufacturers of the product. These small shiny particles are mainly made of plastic, irritate the skin and also greatly harm the environment.
Also, pay attention when bath bombs were made, as a cosmetic product it has 1-2 year of expiration date. But best of all if it was made freshly, special for you or your kid without heavy chemicals and handmade. The best place for finding this kind of products is Etsy marketplace.
See our Bath Bombs selection that kept our attention.
1. Bath Bomb – 12 Pack Fizzer Gift Set Assorted Scents Colors Shea & Cocoa Butter Great For Dry Skin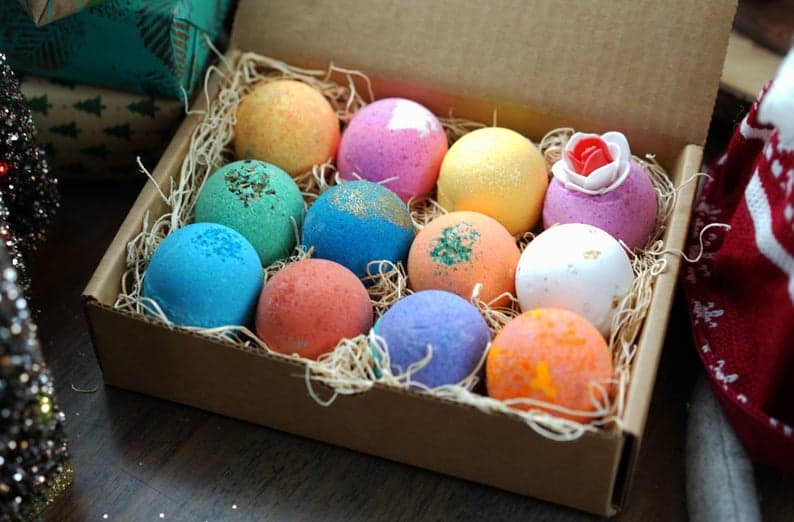 People love these bath bombs and report that kids with eczema (where one is extremely prone to clogged pores that develop into staph infections, specifically with bath products) have been using LifeAround2Angels bath bombs and they never cause any skin issues. Also bombs fizz and dissolve incredibly well and will leave you with a silky bath and beautiful water to relax or play in.
2. Wholesale Organic Bath Bombs Non GMO, No Cruelty, Vegan Bath bombs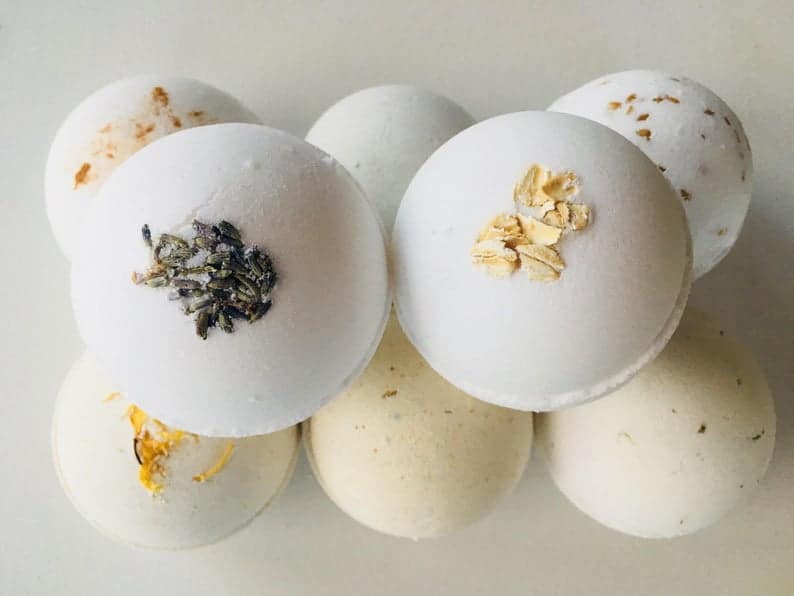 Customers appreciate its quality, smells and soft skin after a bathtub.
3. Best Darned Bath Bombs on Etsy – 9 Pack Gift Set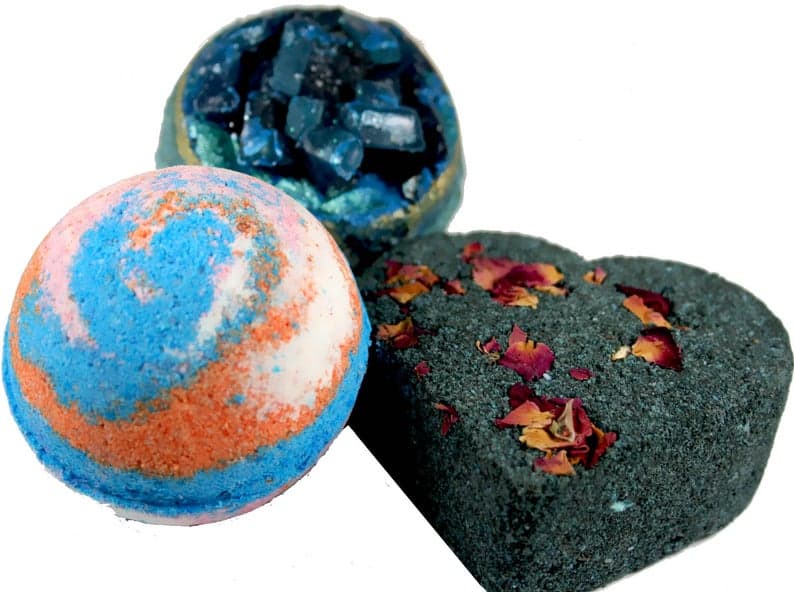 Repeat customers say that these bath bombs are the best bath bombs they have found. The fragrances are nice, and the colors are bright and vibrant, arrived quickly. But few of them complaining that some bombs falling apart upon arrival.
4. Personalized Unicorn Bath Bomb Set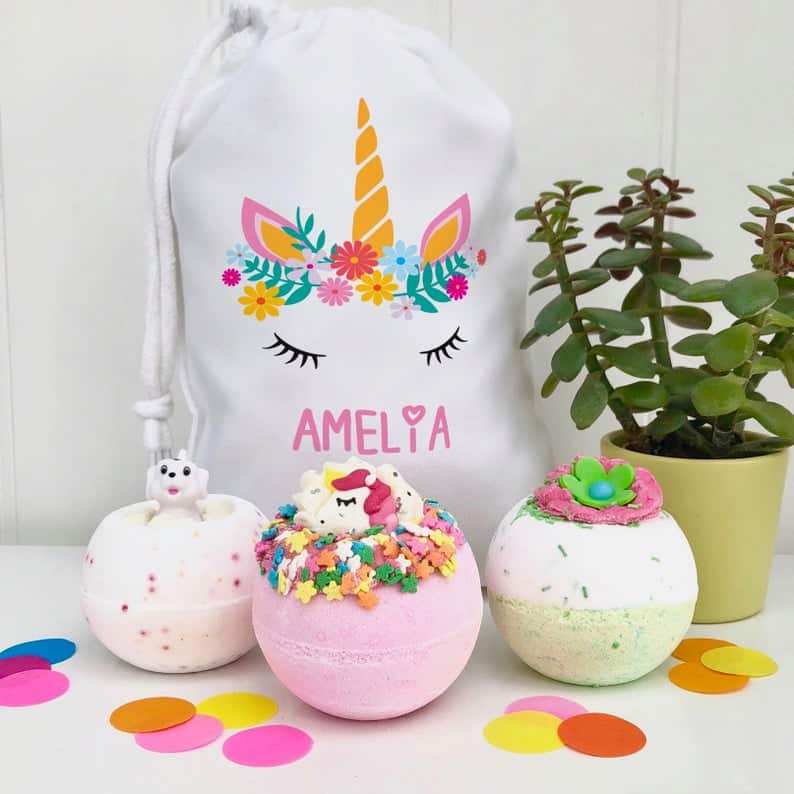 Bath Bombs Lovers like to purchase this cute set for girls' presents. They note good bombs smell and delivery. Most of the bath bombs contain a small toy, however, it seems that shop specialized in personalized gift bags and signs than bath bombs.
5. Pokemon Bath Bombs For Kids With Surprise Toys Inside USA made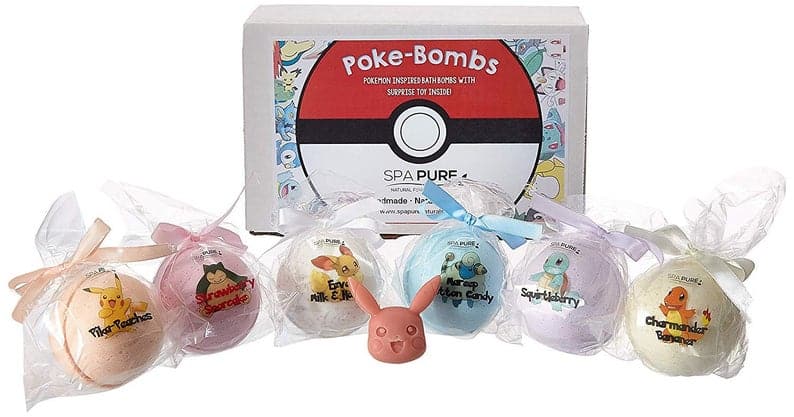 The presentation, packaging, attention to detail & care of Pokemon Bath Bombs shop some customers called outstanding! This is very popular kids gift. Also, shop owner assures that her bath bombs are safe for kids, include natural ingredients, and will leave kids skin feeling hydrated and moisturized. This set is not intended for children under 3. Money Back Guaranteed.
Please, re-check the ingredients before purchasing any bath bombs.
When a bath bomb is made with natural ingredients and no harsh chemicals, it is completely safe even for sensitive skin or for children. In fact, sensitive skin was kept specifically in mind during the invention of bath bombs as they were created to replace traditional bubble baths, which were made with harmful ingredients such as lathering agents and perfumes.
Kids bath bombs should be made with natural ingredients only as a child's skin is much more sensitive and prone to irritation than that of an adult's. In the end, however, children's bath bombs aren't much different than any other bath bomb as long as you get the right one. There are even some bath bombs created with children specifically in mind, whether that be because they were made with a certain theme or with safer ingredients.
Things to Keep in Mind When Looking for Children's Bath Bombs
If you're looking for bath bombs for kids, there are a couple of things that you should keep in mind. As mentioned previously, you should make sure to only use bath bombs that are made with natural ingredients and no harsh chemicals to protect the child's skin from irritation and other negative effects. You should also be careful not to use bath bombs too frequently as even the natural ingredients could start to irritate a child's skin if overused.
LUSH makes most of their bath bombs with sodium laureth sulfate (SLES), which is the ingredient that makes the bath bombs have extra bubbles and foam when they hit the water. They do, however, make a baby-specific bath bomb that cuts this ingredient out of the equation; this might be better for children, especially if they have eczema or sensitive skin. With that said, SLES is used in many traditional baby products and has been deemed safe by scientists so either bath bomb would be generally considered okay for children.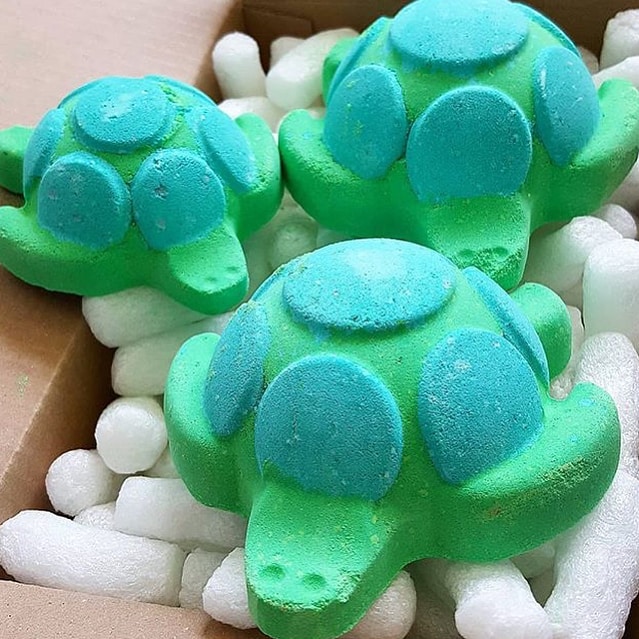 If you want to explore more bath bombs topic read our latest article
How to Choose the Best Holiday Bath Bombs for Any Occasion.
Finding Bath Bombs Made Special Just for Kids
As if bath bombs weren't fun enough already, there are many that are made special with the playfulness of kids in mind. If you look in the right places, you can find bath bombs with toys inside, which may often be called toy surprise bath bombs. These fun bath bombs fizzle in the water just as normal bath bombs do but when they're completely dissolved, they expose a fun toy surprise that kids are sure to love.
Some companies have even created Pokemon bath bombs, which are very similar to toy surprise bath bombs, but these Pokemon bath bombs are created to resemble Pokeballs with little Pokemon inside. These fun bath bombs would be especially great for any child who loves Pokemon and they'd even be great for the fun-loving adults who are truly children at heart.
The Final Verdict: Should You Get Bath Bombs for Kids?
With everything taken into consideration, it seems that bath bombs are perfectly safe to be used with kids, just as long as you don't use them too much. Considering how difficult it can be to get some kids to agree to take a bath, bath bombs could make any parent's life much, much easier. Of course, you do need to be careful when looking for children's bath bombs. While you don't necessarily need to find bath bombs that were made specifically for kids, you should make sure that they were made only with natural ingredients and no harmful chemicals.

With how popular bath bombs have become today, it shouldn't be very hard to find bath bombs that are suitable for children. All it takes is a little patience when reading the ingredient labels and you're guaranteed to find one that both you and your children will love. Whether they're Pokemon bath bombs, toy surprise bath bombs, or just regular fun bath bombs, you and your children will finally be able to enjoy bath time.