The kitchen is undoubtedly the most crucial room in any house, with no exception for tiny houses. It is the focal point of the everyday living of your family. Although a tiny house may be not more than 400 square feet, you can build a bathroom, bedroom, and a functional kitchen there just like in an average house. Like other standard house kitchens, your tiny house kitchen should suit your needs. However, you will need to do several things to maximize its use. Here are 7 tiny house kitchen ideas to help you make your kitchen beautiful and functional.
Kitchen Layout, Cabinet, and Countertop
The first thing you should give as much attention as possible is your tiny house kitchen layout. An ideal kitchen has an outstanding layout attuned into the space shape and space size. The three layouts that may work perfectly for tiny house kitchen designs include galley kitchen layout, I-shaped, U-shaped kitchen layout, and an L-shaped kitchen layout. You should concentrate on making your kitchen sleek and simple with a proper layout that offers enough walking and moving space. Make the layout of your kitchen on a piece of paper and include its scale measurement.
Blue I-shaped tiny kitchen layout.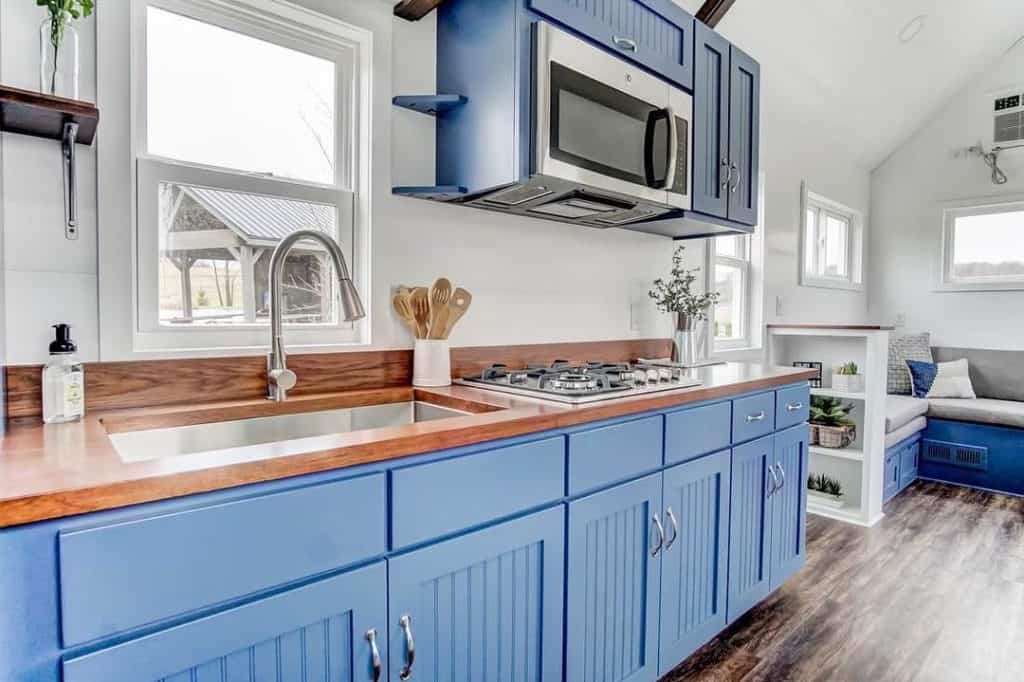 Gray galley shaped tiny kitchen layout.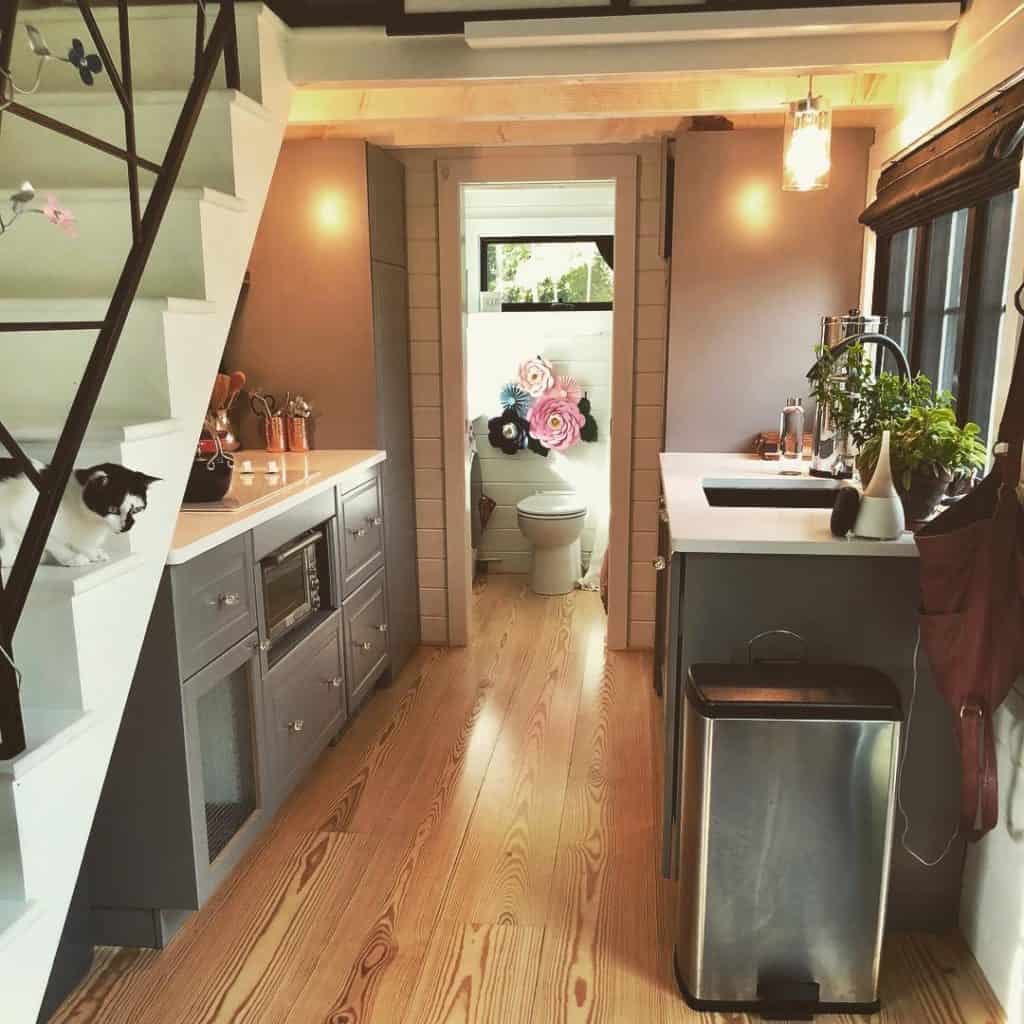 Metallic gray gallery L-shaped tiny kitchen layout.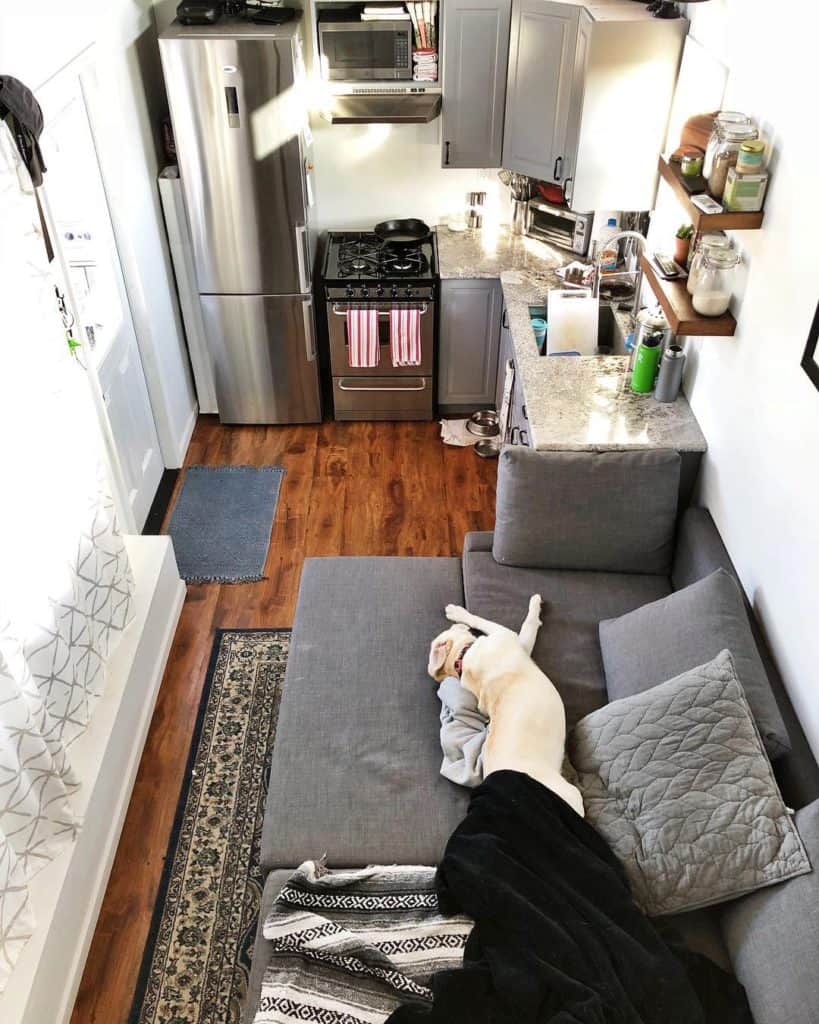 Once you have defined the layout, selecting the cabinet and countertop of your kitchen should be your next step. Cabinet and countertop serve as the focal point in your kitchen. Consider picking the cabinet and countertop that match with your layout. Focus on the material, color, and style when making the selection. Go for a cabinet that is higher than wider. That way, you will use the upper side for not only storage but also for display.
Give Your Tiny Kitchen a Revitalizing Design Boost
The best way of giving your kitchen a revitalizing design boost is to open up the overcrowded space. You can achieve this by changing its actual footprint to enlarge the existing square footage or leverage a few professional decorating ideas to build the illusion and feel of a larger kitchen. The following are actionable tips for uplifting your tiny house kitchen design.
Keep it Fresh and Attractive: Light colors create an illusion of a more spacious

kitchen

. Paint the walls and

cabinets

in your

kitchen

with a soft neutral paint such as misty gray, pristine white, creamy ivory, or barely beige. Make the ceiling loftier by painting with one or two shades lighter compared to the wall color. Alternatively, you can apply bright white paint to the ceiling for maximum visual height. Eliminate old-fashioned window treatments to get rid of outdated, closed-in feel. Instead, apply natural woven shades to attain earthy, lightweight charm.

Make It Glittery and Bright: Introduce reflective surfaces into the décor of your tiny house

kitchen

to elevate the light level and produce a brighter appearance. For instance, replace old

appliances

with stainless steel, fix a mirrored backsplash, and install solid-surface polished granite

countertops

to create an impression of a larger space in your

kitchen

.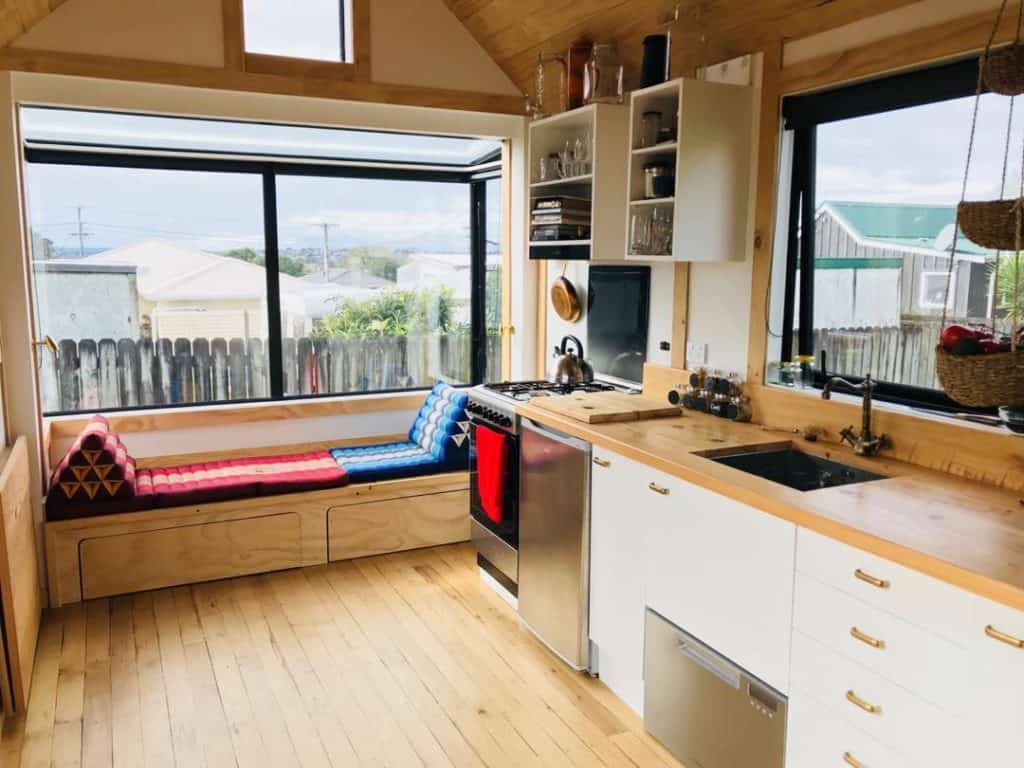 Keep Your Kitchen Organized
Create a roomier atmosphere by keeping your kitchen orderly and clutter-free. Remove all unnecessary stuff from the countertops. Choose a few decorative items like your favorite coffeepot and a container of colorful flowers to display. Your kitchen will feel open with less clutter.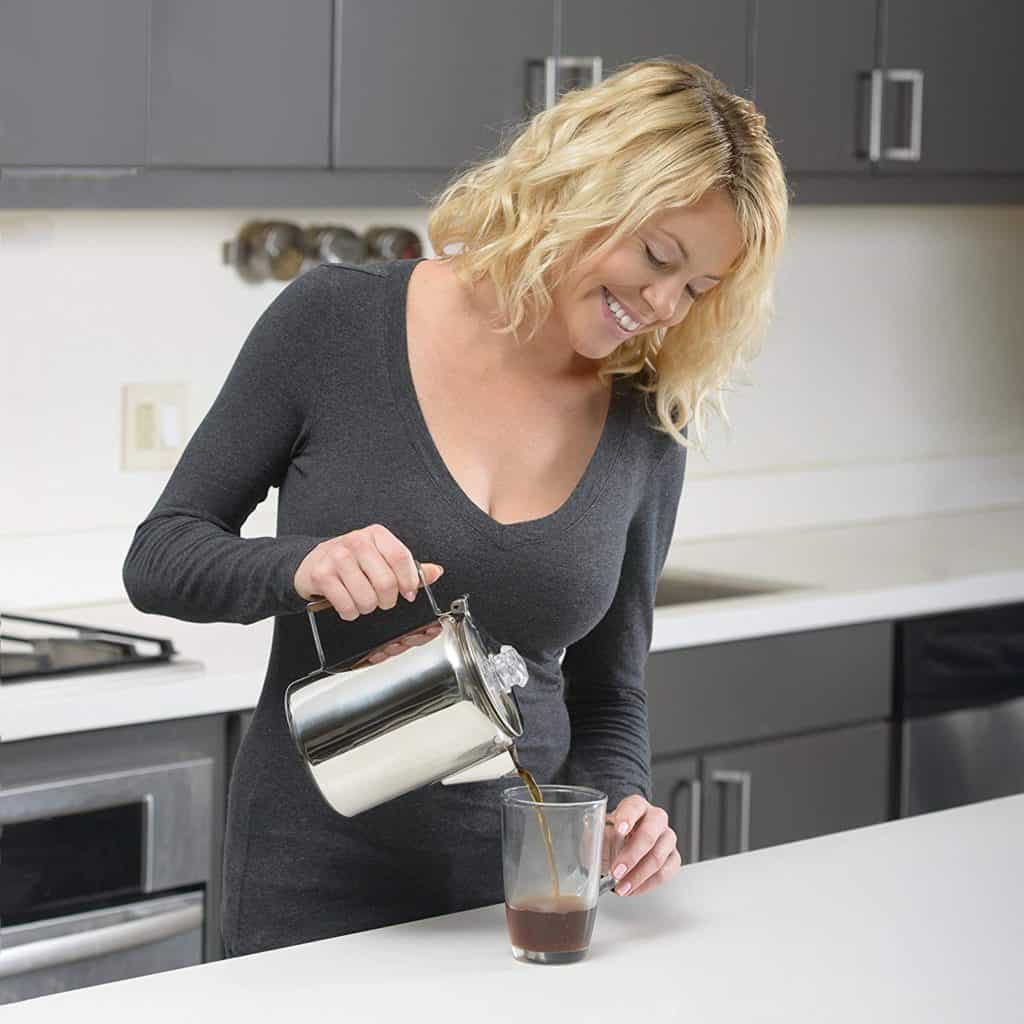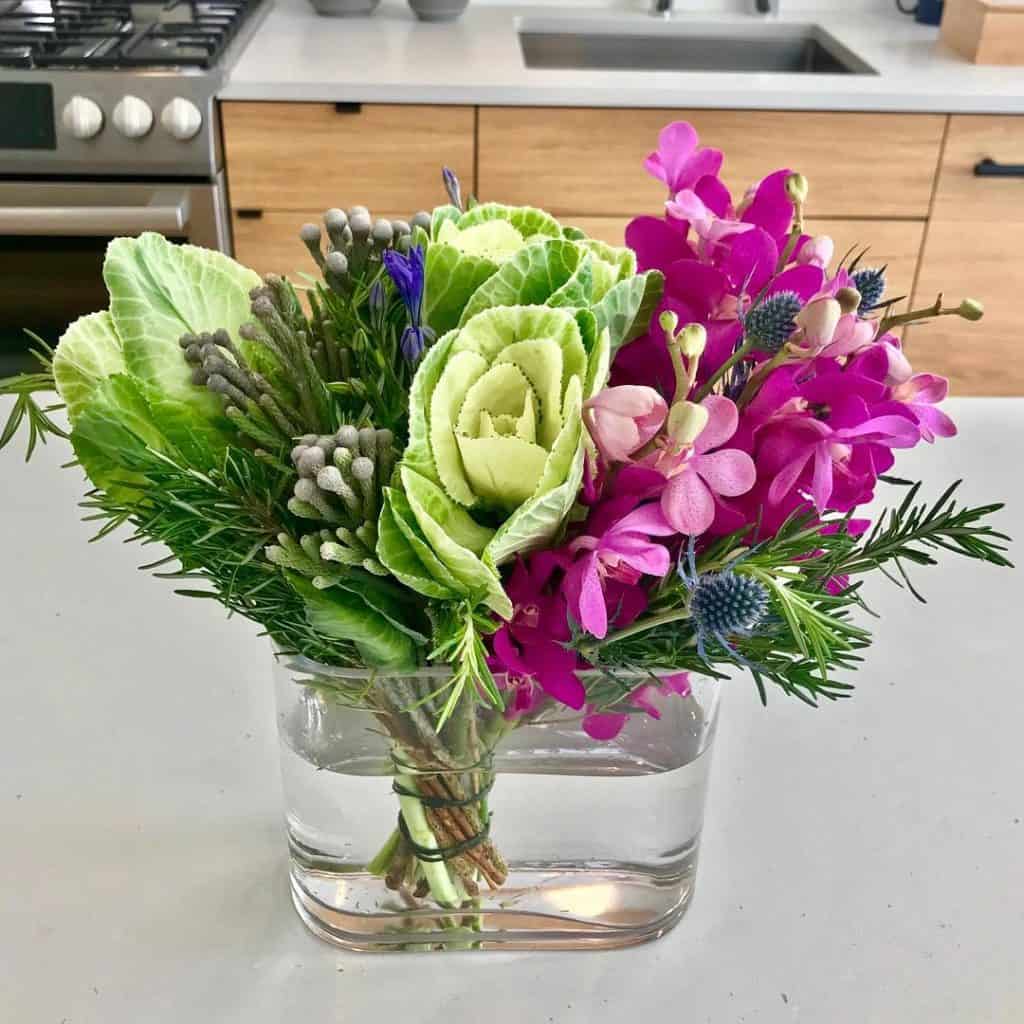 Buy Compact Versions of Kitchen Appliances
Every kitchen, irrespective of its size, needs certain appliances for the preparation and storage of food. These appliances include a refrigerator, a microwave, an oven, and other cooking appliances. Fortunately, there are scaled-down versions of these appliances in the market. Here are ways to help you use the space in your small kitchen wisely.
Strategically Preserve Space: Embed bulky

appliances

like oven and refrigerator in their special cubby area to preserve a central walkway from bulging

appliances

. If you don't have enough space for a full-size refrigerator, go for a mini-fridge or

built-in

fridge below your counter area or sink.

Countertop

Cooking: A stovetop

burner

constructed into the

countertop

of your

kitchen

is enough to heat food. You can also buy a microwave to supplement the

burner

's capability to heat food.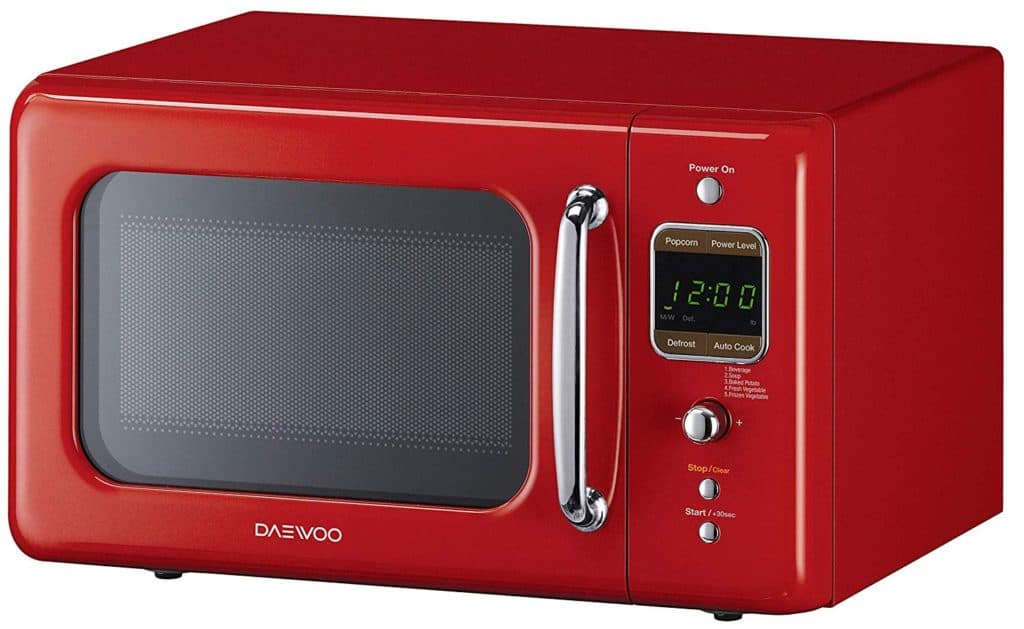 Buy Space-saving Kitchen Tools
Buy space-saving kitchen tools like multi-tools, which are storable. For instance, some set of nesting bowls may consist of even ten pieces, but they occupy an equivalent amount of space as one big mixing bowl. Identify other space-saving and multi-purpose kitchen devices that will let you declutter your small kitchen without sacrificing important tools for preparing big meals.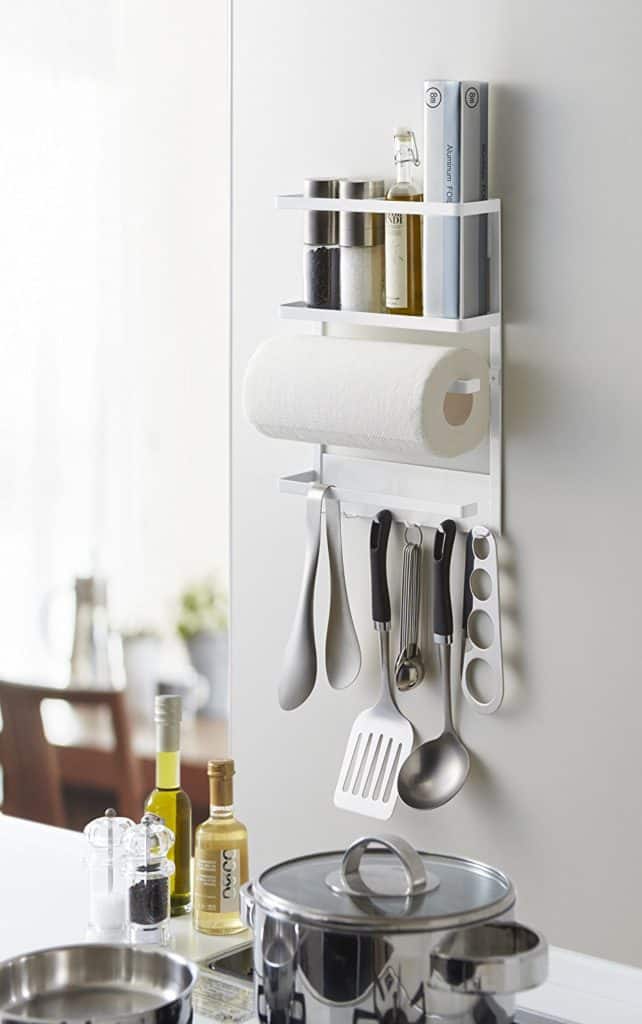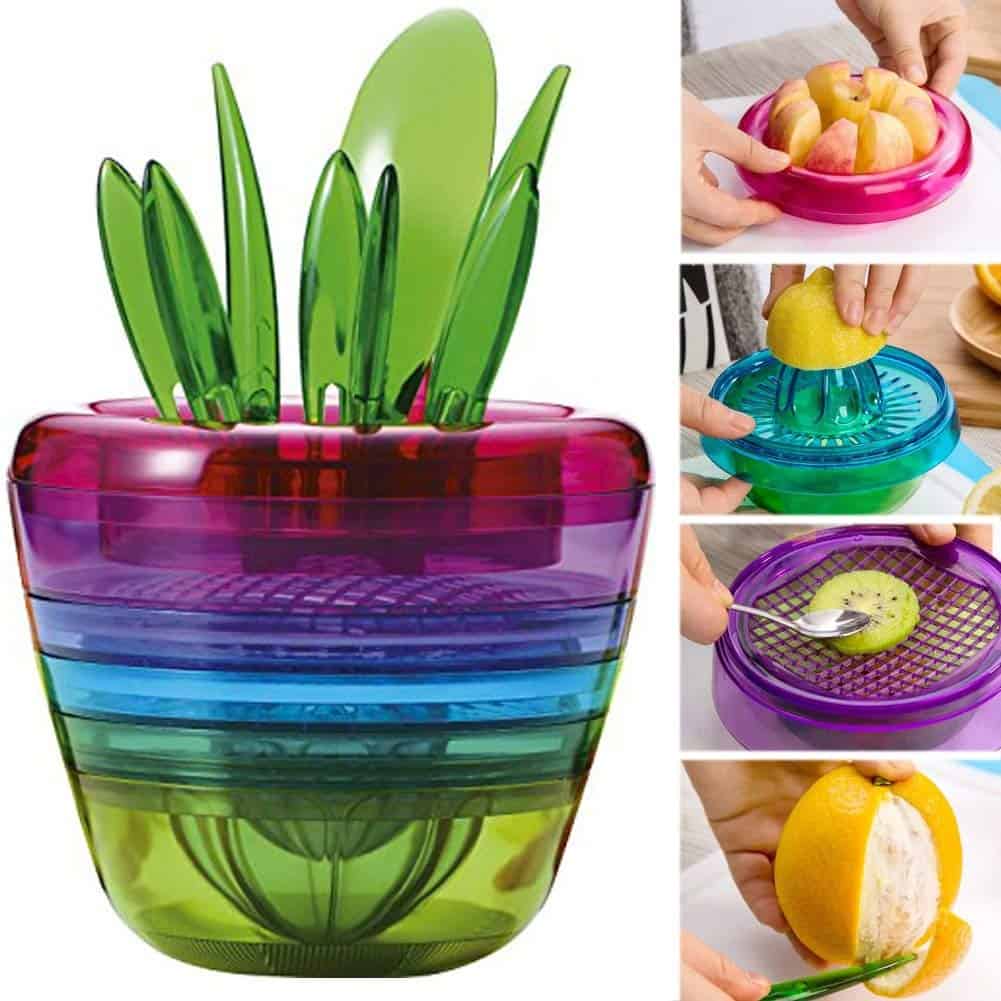 Set up an Innovative Kitchen Island
A kitchen island is a valuable and multifunctional section. It increases surface area and improves your kitchen's style. When considering your tiny house kitchen island ideas, choose an island with the following capabilities:
Creates additional counter space
Has extra storage like

shelves

, drawers, or hooks
Can serve as a breakfast spot or an eating counter
Has correct size that does not interfere with the flow of work in your

kitchen
An affordable and reliable way of adding an island to a tiny house kitchen is to repurpose a piece of furniture into an island. For instance, a sofa table or an old cabinet with many shelving drawers can serve as a perfect island for your kitchen. A tall tiny house kitchen table in the correct proportion can be the ideal island for meal preparation, dining, and counter space. Incorporate hooks to the side for additional storage.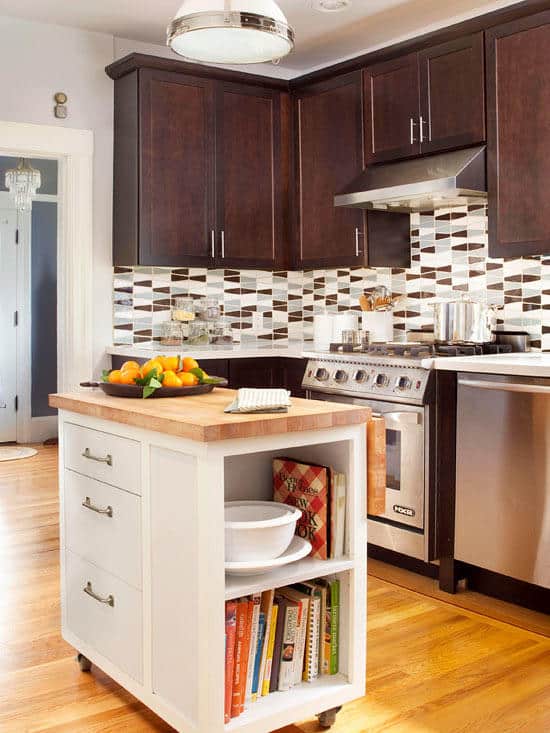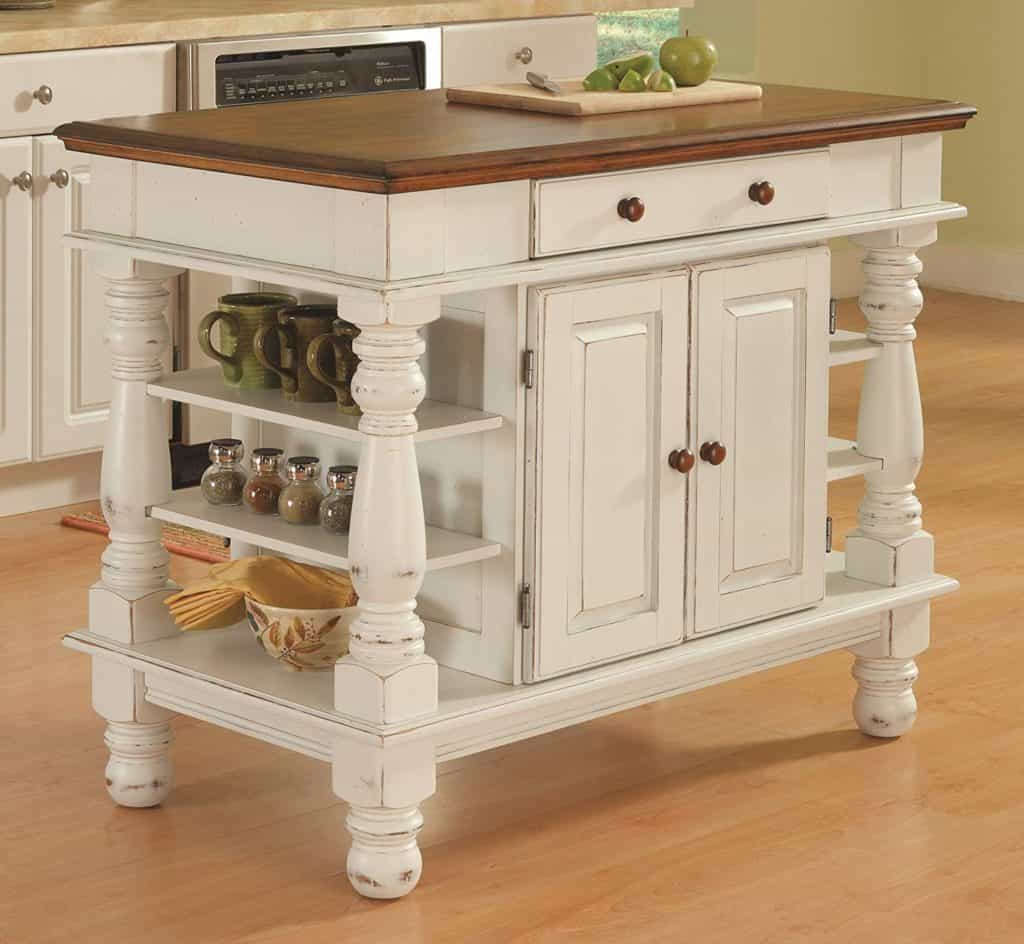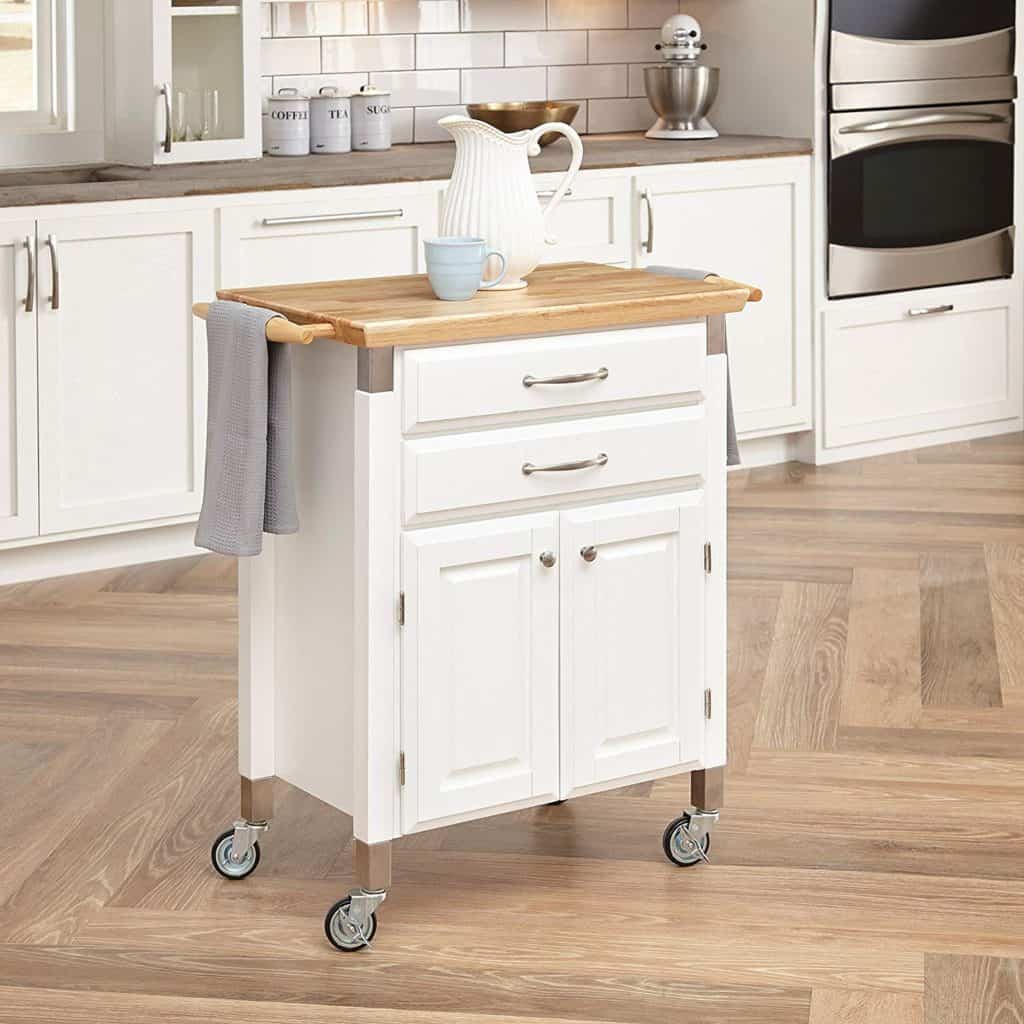 Select the Lighting Carefully
Quality lighting is ideal for all tiny house kitchens. Irrespective of how many creative strategies you implement to make your kitchen feel bigger, bad lighting will make it seem small. You can hang pendants over the island or kitchen sink to add an extra level of lighting. Flush mounts or stable lighting on the ceiling will make your tiny house full kitchen brighter.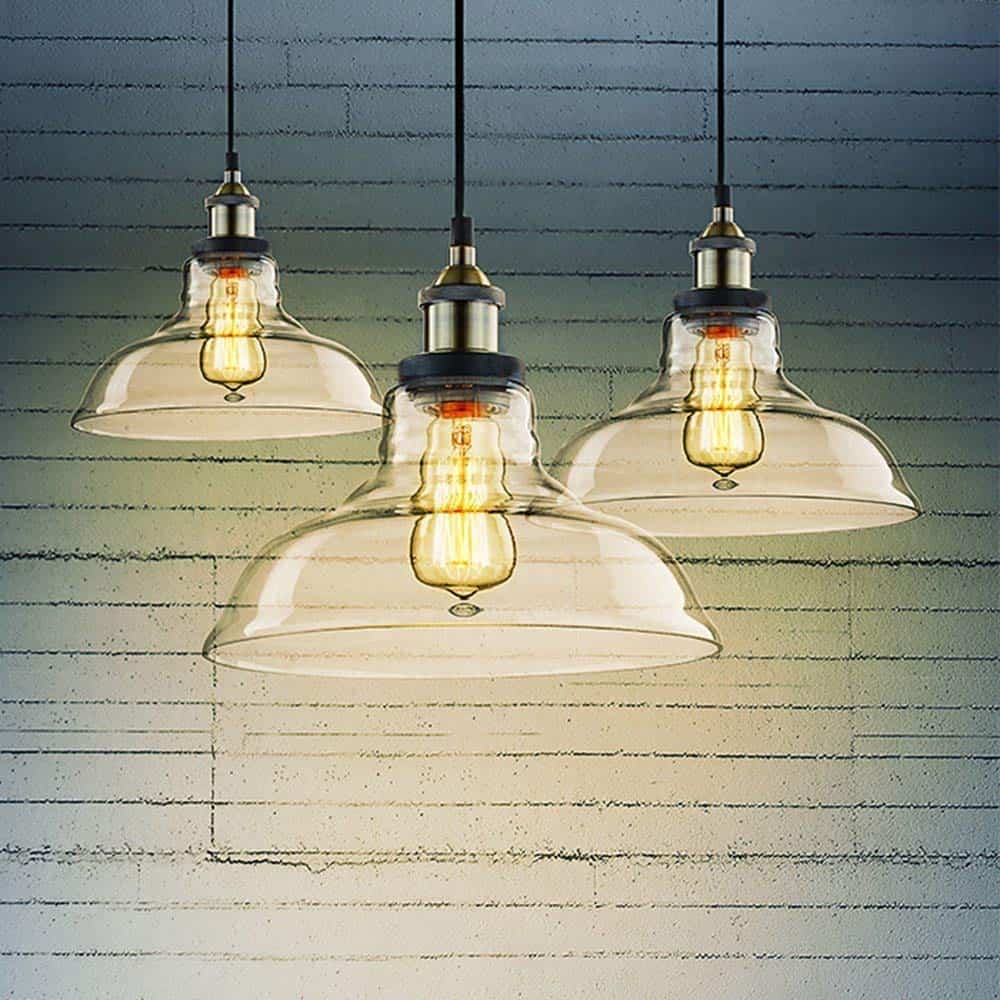 Discover 13 best tiny house deals available right now with free shipping option.
Pros of Tiny House Kitchens
When you are envisioning your dream kitchen, what comes to your mind? Most probably, your best culinary space consists of adequate countertops, boundless cabinets, and a well-stocked pantry. However, you may be stunned to discover that small kitchens are sometimes better than large ones. Below are pros of tiny house kitchens.
There is minimal wastage of food in

small

kitchens

Every tool, device, and

appliance

has a function

Easy to clean and organize

Cheap to decorate
Cons of Tiny House Kitchens
It is evident that tiny kitchens have their shortcomings, ranging from limited counter space, barely enough cabinets for holding your food or appliances, to narrow floor space.
Implementing these tiny house kitchen ideas will allow you to have a lovely walkway that can accommodate two people preparing meals at the same time. You will also have sufficient space and a dining table on which you can enjoy your delicious dish with your spouse.
We may be paid compensation when you click on links to those products and/or services. As an Amazon Associate, we earn from qualifying purchases.
If you want to know more about the Tiny House Movement and fascinating facts about its interior check this article.
Pin us. Sharing is caring