Russian dachas are becoming ever so popular again. "What is a Russian dacha?" you may ask. It's considered a traditional Russian seasonal or annual home for Russian families.
The dacha is generally smaller than traditional homes. They can be as small as 600 square feet and in general, you'll find them only 1 floor high. Although, they still have the ability to contain all of the amenities modern Russian families need to live with while enjoying life. Entrance halls are traditional in these second homes which are normally in local suburbs of Russia.
Classic and tradition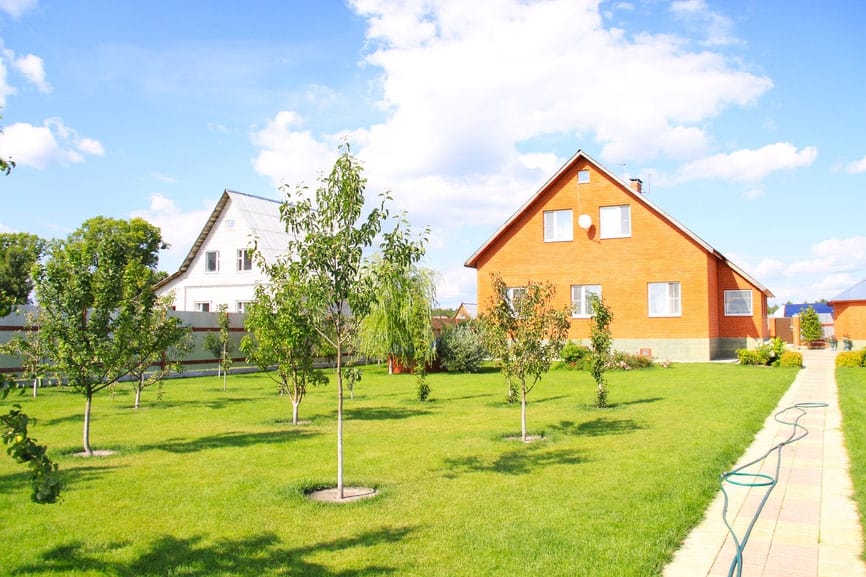 Entering through a classic Entrance Hall, guests will be greeted with a sitting area or the "living room" to many. They're greeted by a sitting room, on the same floor maybe a guest room, a dining room, a small kitchen.
In the back area, dachas may have a garden and with a Russian countryside, it can have some healthy eating vegetables which help the environmental aspects of staying in one during a spring/summer or fall/winter season. About 50% of Russians have one. They'll be located in the Russian countryside. If you look at the numbers, those who have a house in Russian regions will know or own their own.
Owning a house in Russia
When you own a house in Russia, you may be part of that 40 to 50% of residents who live in Moscow that own their own dacha. A house in Russia is great, but having a dacha will show prosperity. They're notably spectacular in the architectural sense. In the countryside, Russian travelers will discover Russian Countryside dachas that may look like cottages, although they're not considered dachas if they were.
Stalin Dachas. Stalin's Summer Residence in Sochi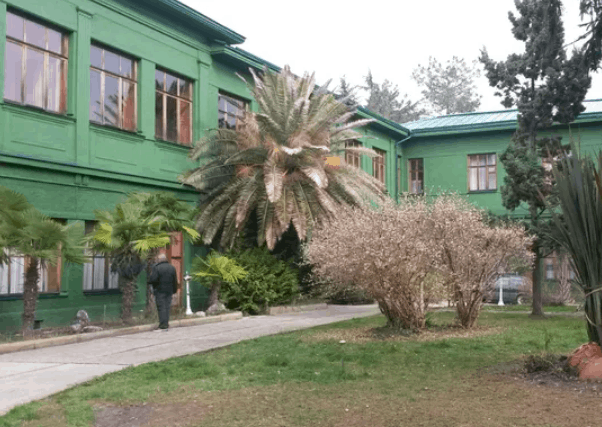 This particular dacha house is now a traveler's stop in Sochi. Russia.
Joseph Stalin had one inside a forest. In fact, he had one near his offices.
This dacha was built in 1936 for rest and recreation. The dacha was built so Joseph Stalin could take hydrogen sulfide baths. Do you know what Matsesta is? This is an unusual healing spring of water. It was assumed that medical procedures here will be held annually. The Kremlin doctors recommended him to take medical baths every year. He had problems with the musculoskeletal system. In 1934 it was decided to build this villa. In 1936, this dacha was built. In 1937, Stalin came here for the first time. He came here in the autumn. His retinue was permanent. With him came the head of the security Vlasik and personal secretary Poskrebyshev, as well as his children Vasily and Svetlana.
The security personnel was separate. All the attendants were from Sochi. The last time Stalin was here in September 1950. He was never here again. This is the fifth summer residence. Two of Stalin's dachas are located near Moscow (one of them is Kuntsevo Dacha), two in Abkhazia. Sochi's dacha is the largest. All the dachas of Stalin designed one architect – Merzhanov. All dachas are built in the style of Stalinist Empire. They are very similar to each other. All dachas are the same type. They just have different sizes. The green color is present everywhere. Green is a color of nature, it is used not for the purpose of camouflage.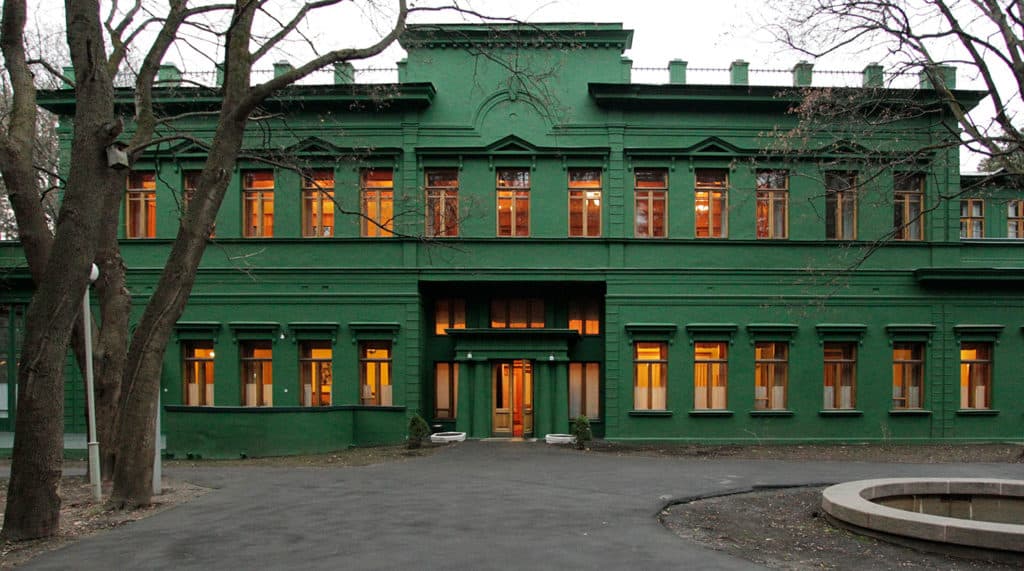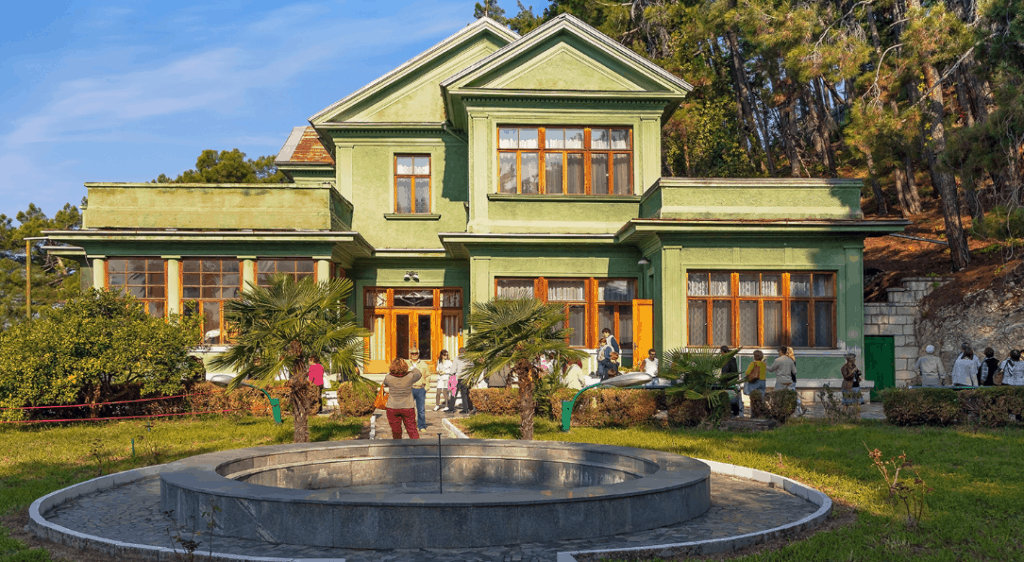 This is an active boarding house. When Stalin died in 1953, the dacha was conserved. There was a staff there, but no one came to rest here. Nikita Khrushchev didn't admit anyone here. In the 90's it was transferred to the sanatorium "Green Grove" Since 2007 it is private property. Stalin's dacha is a monument of history and culture. On the second floor, there are residential rooms. On the first floor, there are two restaurant halls.
The first block of villas is a recreation area. In the recreation area was the Stalin cinema and restroom.
This cutlery was donated to Stalin during the seven-year anniversary of Mao Zedong. This is the manual work of Chinese masters. There is a phone that allows direct contact with the Kremlin. The wax figure is the exact anthropometric figure of Stalin. All proportions up to a millimeter are observed. A doll for the museum was created by one Georgian architect, a fan of Stalin. When the doll was made, a death mask was used. There you can see a sample of Stalin's handwriting. He did not write legibly but without errors.
There were never any special celebrations here. Stalin preferred family rest. No drinking, no party was here. Stalin drank tea on the veranda.
If you consider exploring Russian Dachas visit the above-mentioned one and explore the Russian countryside far from big cities. To see more Types of Houses check this article